2 Years Parts & Labor/10 Years Structural Warranty
The SD-Series lifts were designed as a step up from the HD series. Many of these models are modified dock lifts so you will notice that the edge loading capabilities are often a higher percentage of the lifting capacity than is typical for smaller lifts. Inquire about our Super Duty Vertical Lift Platforms today.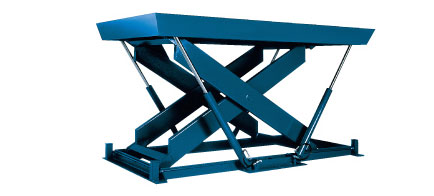 SPECIAL FEATURES
All of the controllers are Underwriter Laboratory listed assemblies.
These units are fully primed and finished with a baked enamel finish.
The cylinders are machine grade.
All pressure hoses are double wire braid with JIC fittings.
The reservoirs are mild steel.
These hydraulic lifting tables conform to all applicable ANSI codes.

---
FEATURE DETAILS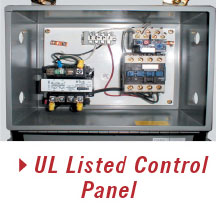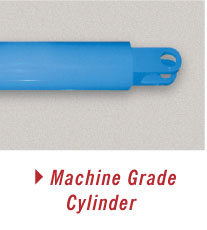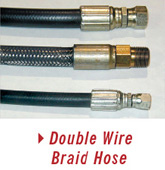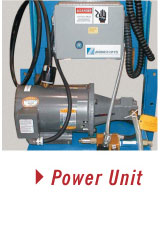 ---
SPECIFICATION TABLE FOR SINGLE SCISSOR UNITS
| Model | Travel | Capacity | Std Min Platform | Maximum End | Loading Side | Baseframe Size | Lowered Height | Raised Height | Speed Sec. | Motor H.P. | Ship Wt. |
| --- | --- | --- | --- | --- | --- | --- | --- | --- | --- | --- | --- |
| SD-05608 | 58 | 5000 | 6′ X 8′ | 3500 | 3500 | 60-1/2X94-1/2 | 10 | 68 | 25 | 5 | 2250 |
| SD-05609 | 58 | 5000 | 6′ X 9′ | 3500 | 3500 | 60-1/2X94-1/2 | 10 | 68 | 25 | 5 | 2340 |
| SD-05610 | 58 | 5000 | 6′ X 10′ | 3500 | 3500 | 60-1/2X94-1/2 | 10 | 68 | 25 | 5 | 2430 |
| SD-05708 | 58 | 5000 | 7′ X 8′ | 3500 | 3500 | 60-1/2X94-1/2 | 10 | 68 | 25 | 5 | 2370 |
| SD-05709 | 58 | 5000 | 7′ X 9′ | 3500 | 3500 | 60-1/2X94-1/2 | 10 | 68 | 25 | 5 | 2475 |
| SD-05710 | 58 | 5000 | 7′ X 10′ | 3500 | 3500 | 60-1/2X94-1/2 | 10 | 68 | 25 | 5 | 2580 |
| SD-05808 | 58 | 5000 | 8′ X 8′ | 3500 | 3500 | 60-1/2X 94-1/2 | 10 | 68 | 25 | 5 | 2490 |
| SD-05809 | 58 | 5000 | 8′ X 9′ | 3500 | 3500 | 60-1/2X94-1/2 | 10 | 68 | 25 | 5 | 2610 |
| SD-05810 | 58 | 5000 | 8′ X 10′ | 3500 | 3500 | 60-1/2X94-1/2 | 10 | 68 | 25 | 5 | 2730 |
| SD-08608 | 58 | 8000 | 6′ X 8′ | 8000 | 7500 | 69 X 89-7/8 | 15 | 73 | 30 | 5 | 3950 |
| SD-08609 | 58 | 8000 | 6′ X 9′ | 8000 | 7500 | 69 X 89-7/8 | 15 | 73 | 30 | 5 | 4040 |
| SD-08610 | 58 | 8000 | 6′ X 10′ | 8000 | 7500 | 69 X 89-7/8 | 15 | 73 | 30 | 5 | 4130 |
| SD-08708 | 58 | 8000 | 7′ X 8′ | 8000 | 7500 | 69 X 89-7/8 | 15 | 73 | 30 | 5 | 4070 |
| SD-08709 | 58 | 8000 | 7′ X 9′ | 8000 | 7500 | 69 X 89-7/8 | 15 | 73 | 30 | 5 | 4175 |
| SD-08710 | 58 | 8000 | 7′ X 10′ | 8000 | 7500 | 69 X 89-7/8 | 15 | 73 | 30 | 5 | 4280 |
| SD-08808 | 58 | 8000 | 8′ X 8′ | 8000 | 7500 | 69 X 89-7/8 | 15 | 73 | 30 | 5 | 4190 |
| SD-08809 | 58 | 8000 | 8′ X 9′ | 8000 | 7500 | 69 X 89-7/8 | 15 | 73 | 30 | 5 | 4310 |
| SD-08810 | 58 | 8000 | 8′ X 10′ | 8000 | 7500 | 69 X 89-7/8 | 15 | 73 | 30 | 5 | 4430 |
| SD-10608 | 58 | 10000 | 6′ X 8′ | 10000 | 7500 | 69 X 89-7/8 | 15 | 73 | 38 | 5 | 4225 |
| SD-10609 | 58 | 10000 | 6′ X 9′ | 10000 | 7500 | 69 X 89-7/8 | 15 | 73 | 38 | 5 | 4315 |
| SD-10610 | 58 | 10000 | 6′ X 10′ | 10000 | 7500 | 69 X 89-7/8 | 15 | 73 | 38 | 5 | 4405 |
| SD-10708 | 58 | 10000 | 7′ X 8′ | 10000 | 7500 | 69 X 89-7/8 | 15 | 73 | 38 | 5 | 4345 |
| SD-10709 | 58 | 10000 | 7′ X 9′ | 10000 | 7500 | 69 X 89-7/8 | 15 | 73 | 38 | 5 | 4450 |
| SD-10710 | 58 | 10000 | 7′ X 10′ | 10000 | 7500 | 69 X 89-7/8 | 15 | 73 | 38 | 5 | 4555 |
| SD-10808 | 58 | 10000 | 8′ X 8′ | 10000 | 7500 | 69 X 89-7/8 | 15 | 73 | 38 | 5 | 4465 |
| SD-10809 | 58 | 10000 | 8′ X 9′ | 10000 | 7500 | 69 X 89-7/8 | 15 | 73 | 38 | 5 | 4585 |
| SD-10810 | 58 | 10000 | 8′ X 10′ | 10000 | 7500 | 69 X 89-7/8 | 15 | 73 | 38 | 5 | 4705 |
| SD-12610 | 58 | 12000 | 6′ X 10′ | 12000 | 12000 | 68-1/2X118-1/2 | 16-1/2 | 74-1/2 | 41 | 5 | 5200 |
| SD-12611 | 58 | 12000 | 6′ X 11′ | 12000 | 12000 | 68-1/2X118-1/2 | 16-1/2 | 74-1/2 | 41 | 5 | 5320 |
| SD-12612 | 58 | 12000 | 6′ X 12′ | 12000 | 12000 | 68-1/2X118-1/2 | 16-1/2 | 74-1/2 | 41 | 5 | 5440 |
| SD-12710 | 58 | 12000 | 7′ X 10′ | 12000 | 12000 | 80-1/2X118-1/2 | 16-1/2 | 74-1/2 | 41 | 5 | 5400 |
| SD-12711 | 58 | 12000 | 7′ X 11′ | 12000 | 12000 | 80-1/2X118-1/2 | 16-1/2 | 74-1/2 | 41 | 5 | 5540 |
| SD-12712 | 58 | 12000 | 7′ X 12′ | 12000 | 12000 | 80-1/2X118-1/2 | 16-1/2 | 74-1/2 | 41 | 5 | 5680 |
| SD-12810 | 58 | 12000 | 8′ X 10′ | 12000 | 12000 | 92-1/2X118-1/2 | 16-1/2 | 74-1/2 | 41 | 5 | 5600 |
| SD-12811 | 58 | 12000 | 8′ X 11′ | 12000 | 12000 | 92-1/2X118-1/2 | 16-1/2 | 74-1/2 | 41 | 5 | 5760 |
| SD-12812 | 58 | 12000 | 8′ X 12′ | 12000 | 12000 | 92-1/2X118-1/2 | 16-1/2 | 74-1/2 | 41 | 5 | 5920 |
| SD-15610 | 58 | 15000 | 6′ X 10′ | 15000 | 15000 | 80-1/2X118-1/2 | 16-1/2 | 74-1/2 | 38 | 7-1/2 | 5500 |
| SD-15611 | 58 | 15000 | 6′ X 11′ | 15000 | 15000 | 80-1/2X122-1/2 | 16-1/2 | 74-1/2 | 38 | 7-1/2 | 5620 |
| SD-15612 | 58 | 15000 | 6′ X 12′ | 15000 | 15000 | 80-1/2X139-1/2 | 16-1/2 | 74-1/2 | 38 | 7-1/2 | 5740 |
| SD-15710 | 58 | 15000 | 7′ X 10′ | 15000 | 15000 | 92-1/2X118-1/2 | 16-1/2 | 74-1/2 | 38 | 7-1/2 | 5700 |
| SD-15711 | 58 | 15000 | 7′ X 11′ | 15000 | 15000 | 92-1/2X122-1/2 | 16-1/2 | 74-1/2 | 38 | 7-1/2 | 5840 |
| SD-15712 | 58 | 15000 | 7′ X 12′ | 15000 | 15000 | 92-1/2X139-1/2 | 16-1/2 | 74-1/2 | 38 | 7-1/2 | 5980 |
| SD-15810 | 58 | 15000 | 8′ X 10′ | 15000 | 15000 | 104-1/2X118-1/2 | 16-1/2 | 74-1/2 | 38 | 7-1/2 | 5900 |
| SD-15811 | 58 | 15000 | 8′ X 11′ | 15000 | 15000 | 104-1/2X122-1/2 | 16-1/2 | 74-1/2 | 38 | 7-1/2 | 6060 |
| SD-15812 | 58 | 15000 | 8′ X 12′ | 15000 | 15000 | 104-1/2X139-1/2 | 16-1/2 | 74-1/2 | 38 | 7-1/2 | 6220 |
| SD-18610 | 58 | 18000 | 6′ X 10′ | 18000 | 18000 | 80 X 120 | 18 | 76 | 38 | 7-1/2 | 5800 |
| SD-18611 | 58 | 18000 | 6′ X 11′ | 18000 | 18000 | 80 X 124 | 18 | 76 | 38 | 7-1/2 | 5920 |
| SD-18612 | 58 | 18000 | 6′ X 12′ | 18000 | 18000 | 80 X 141 | 18 | 76 | 38 | 7-1/2 | 6040 |
| SD-18710 | 58 | 18000 | 7′ X 10′ | 18000 | 18000 | 92 X 120 | 18 | 76 | 38 | 7-1/2 | 6000 |
| SD-18711 | 58 | 18000 | 7′ X 11′ | 18000 | 18000 | 92 X 124 | 18 | 76 | 38 | 7-1/2 | 6140 |
| SD-18712 | 58 | 18000 | 7′ X 12′ | 18000 | 18000 | 92 X 141 | 18 | 76 | 38 | 7-1/2 | 6280 |
| SD-18810 | 58 | 18000 | 8′ X 10′ | 18000 | 18000 | 104 X 120 | 18 | 76 | 38 | 7-1/2 | 6200 |
| SD-18811 | 58 | 18000 | 8′ X 11′ | 18000 | 18000 | 104 X 124 | 18 | 76 | 38 | 7-1/2 | 6360 |
| SD-18812 | 58 | 18000 | 8′ X 12′ | 18000 | 18000 | 104 X 141 | 18 | 76 | 38 | 7-1/2 | 6520 |
| SD-20610 | 58 | 20000 | 6′ X 10′ | 20000 | 20000 | 6′ X 10′ | 20 | 78 | 38 | 7-1/2 | 6100 |
| SD-20611 | 58 | 20000 | 6′ X 11′ | 20000 | 20000 | 6′ X 11′ | 20 | 78 | 38 | 7-1/2 | 6220 |
| SD-20612 | 58 | 20000 | 6′ X 12′ | 20000 | 20000 | 6′ X 12′ | 20 | 78 | 38 | 7-1/2 | 6340 |
| SD-20710 | 58 | 20000 | 7′ X 10′ | 20000 | 20000 | 7′ X 10′ | 20 | 78 | 38 | 7-1/2 | 6300 |
| SD-20711 | 58 | 20000 | 7′ X 11′ | 20000 | 20000 | 7′ X 11′ | 20 | 78 | 38 | 7-1/2 | 6440 |
| SD-20712 | 58 | 20000 | 7′ X 12′ | 20000 | 20000 | 7′ X 12′ | 20 | 78 | 38 | 7-1/2 | 6580 |
| SD-20810 | 58 | 20000 | 8′ X 10′ | 20000 | 20000 | 8′ X 10′ | 20 | 78 | 38 | 7-1/2 | 6500 |
| SD-20811 | 58 | 20000 | 8′ X 11′ | 20000 | 20000 | 8′ X 11′ | 20 | 78 | 38 | 7-1/2 | 6660 |
| SD-20812 | 58 | 20000 | 8′ X 12′ | 20000 | 20000 | 8′ X 12′ | 20 | 78 | 38 | 7-1/2 | 6820 |
* CLICK ON THE MODEL NUMBER IN THE CHART TO VIEW PRODUCT SHEET
ONLY ADVANCE LIFTS GIVES YOU WARRANTY CHOICES:
P SERIES LIFTS – 10 YEAR/250,000 CYCLES
(The longest standard warranty in the industry)
HC SERIES LIFTS – 10 YEAR/1,000,000 CYCLES
UHC SERIES LIFTS – 10 YEAR/3,000,000 CYCLES