CONTROLS: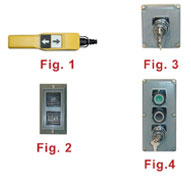 FIG. 1 – NEMA 4X
pushbutton (Standard)
FIG. 2 – NEMA 1
wall mount Pushbutton
FIG. 3 – UP DOWN
Key operated
FIG. 4 – Push Button
With Key Lockout
FACTORY STANDARD RECEPTACLE CHARTS: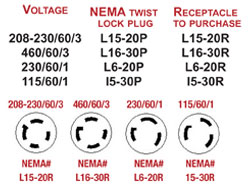 Note: Standard voltage for all power units of 1HP or larger is 230/60/3. These units will operate on 208, 220, 230, 240 voltages and if the magnetic overloads are changed, they can be rewired to operate on 440, 460, and 480 voltages also.

LIMIT SWITCH – This adjustable limit switch stops the lift's upward travel at a preset level. To avoid electric lines in the pit, it should only be used where the platform must stop at the same elevation every time.

QUICK DISCONNECT – The push button control can be plugged into a receptacle box on the lift. Other variations are available.
PAINT COLORS – Eight standard colors available at no extra charge.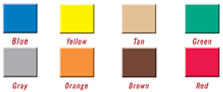 NIGHT LOCKS – Night locks are located on the four platform corners. They swivel 360 degrees so they can be positioned over the edge of a concrete dock to mechanically lock the lift in a raised position for security purposes. They are not load supporting devices and are ordered in lieu of hand rails which are not required in a raised concrete loading dock application.


HANDRAILS, GATES & PIPE STANCHIONS – All loading dock scissor lifts are equipped with handrails along their long sides and safety chains across the ends as standard. However, some applications require gates, pipe stanchions to clip chains to and other special handrail configurations. Let us know your needs.



BI-PARTING GATES – Our parting gates are available in standard widths of 6', 7,' or 8'. See chart for exact dimensions. The loading dock lift gates are held in the upright position by gas air springs. Electrical interlocks are optional.
1. Bi parting gate for 6 ft side with 52" clear width
2. Bi parting gate for 7 ft side with 64" clear width
3. Bi parting gate for 8 ft side with 76" clear width

PRE-WIRED POWER UNIT – Optional on pit mounted models due to installation considerations, but standard on all top-of-ground and portable dock lift models.


POWER UNIT COVERS – Power unit covers are used for weather protection when other shelter is unavailable.

OIL IMMERSION HEATERS – These devices are popular in colder climates to keep the fluid in the reservoir at a warm temperature. They require a separate 110-volt line and simply screw into the coupling at the bottom of the reservoir.
FLASHING LIGHT & AUDIO ALARM – These devices are available as individual items or in combination.



PATENTED ELECTRIC TOE GUARDS
Where personnel protection is desired beyond that required by federal regulations, specify Advance Electric Toe Guards. These stop the downward travel of a platform when an object makes contact with the electric toe guard. Simply pushing the "UP" button on the control station raises the platform so the object can be removed and the system reset. Electric Toe Guards can be installed on any or all of the platform sides. Its hinged actuator projects down and away from the rigid platform toe guard, rather than hanging directly beneath it. Electric Toe Guards can act as an emergency down travel stop switch for anyone within arm's reach of the platform, providing added electronic protection without sacrificing the minimum 8″ bevel toe guard mechanical protection required by federal regulations.

WHEEL CHOCK – Wheel chocks are designed to automatically create a barrier for wheels whenever the unit is raised from a fully lowered position.
SLIP REDUCING DECKS – Plate manufacturers produce raised pattern plates for better traction which is standard on all dock lifts and an option on all other lifts. We can also embed silica sand in our enamel paint finish on smooth plates, which provides better traction than the embossed plates, but does not hold up to wear as well.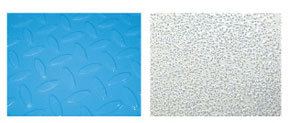 APPROACH RAMPS – These are standard on "top of ground units" but they are also available for pit mounted units that are not being mounted in pits. There are two types available.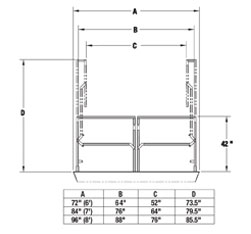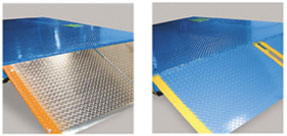 ALUMINUM BRIDGES & SPLIT BRIDGES These options are used to reduce the lifting weight of bridges.
AUTOMATIC BRIDGE ACTIVATORS
To avoid potential injuries, the bridge activator eliminates repeated handling of the hinged bridge. Simply adjust the height of the activator to 3″ below the truck bed and lean the bridge against the activator. As the lift raises or lowers, the bridge cams over the activator bar onto or off of the truck bed.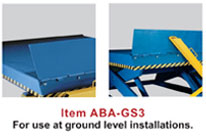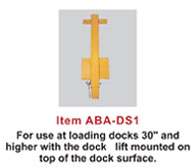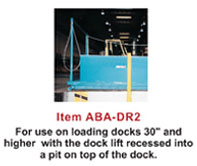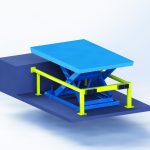 DOCK LIFT PROTECTION SYSTEM Dock lift protection systems stop backing trucks and transfer the impact to the concrete docks behind the lifts.
AIR CARGO PALLET HANDLING AT YOUR LOADING DOCK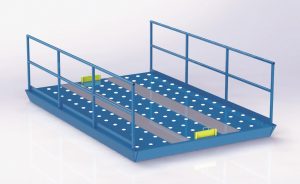 BALL TRANSFER DECKS
Best indoors.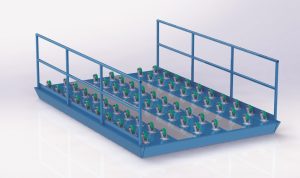 CASTER DECKS
Power optional.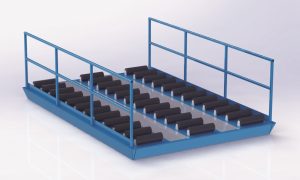 ROLLER DECKS
Power optional.
HYDRAULIC BRIDGE ACTIVATOR
This option requires no additional electrical lines to the base frame. The control is a separate push button that can be moved to a convenient point on the platform. The cylinder actuator is either mounted under the platform for units with at least 8" lowered heights or on the side of the platform for lower units. Platform working space is never compromised. Truck bed deflection is automatically compensated for in the fully deployed position with a bridge float hydraulic circuit. Solid steel bridges up to 48" long can be used with this option.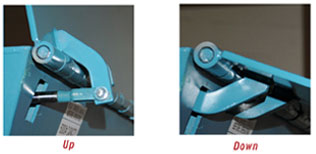 WALLS AS AUTOMATIC BRIDGE ACTIVATORS
In cold climate areas it is popular to position dock lifts inside buildings with a wall in front of the lift to keep cold air out of the building. This requires a bridge long enough to reach over the wall and extend beyond bumpers or bollards into a truck. This can mean a bridge of 36" to 48" in length. The good thing is that a steel wear strip can be installed on the inside of the wall for the bridge to rest against and slide on, so that the wall functions as an automatic bridge activator. The operator never needs to touch the bridge. As the lift is raised, the bridge rides over the top of the wall and reaches into the truck. This same principle can be used without a wall by providing a cross tube or roller on a pipe for the bridge to rest against and over. This is an illustration of a typical wall style bridge activator.