WHEN DURABILITY MATTERS
1 Year Parts and Labor\10 year, 250,000 Cycle Structural Warranty
These air operated lift and turn tables are designed to operate on shop air with no need for electricity. Each air scissor lift has been optimized for minimum weight and maximum value. Some applications require highly modified or custom designs which we are happy to provide. Inquire about our industrial air lift platforms today.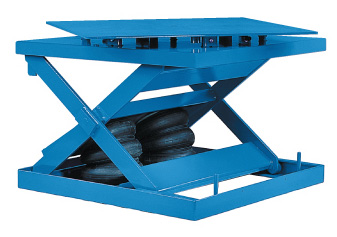 SPECIAL FEATURES
These air lift platforms are equipped with the patented "Platform Centering Devices", which doubles or triples lift life

These units are fully primed and finished with a baked enamel finish.
All units are equipped with sealed ball bearing wheels.
All shafts and axles are chrome plated 100,000 psi stressproof steel.
All pivot bearings are lifetime lubricated.
These turning lift platforms are equipped with a pressure safety relief and a safety orifice speed control to regulate down speed in case of supply line hose rupture.

SPECIFICATION TABLE FOR  AIR OPERATED LIFT AND TURN UNITS
|  Model | Travel | Capacity | Platform Minimum | Platform Maximum | Baseframe | Lowered Height | Raised Height | Turn | Ship Weight |
| --- | --- | --- | --- | --- | --- | --- | --- | --- | --- |
| ATR-1524 | 24 | 1500 | 36 x 48 | 48 x 48 | 36 x 48 | 10 -3/4 | 34-3/4 | 360° | 690 |
| ATR-2524 | 24 | 2500 | 48 x 48 | 60 x 60 | 48 x 48 | 10 -3/4 | 34-3/4 | 360° | 1210 |
| ATR-3524 | 24 | 3500 | 48 x 48 | 60 x 60 | 48 x 48 | 10 -3/4 | 34-3/4 | 360° | 1220 |
| ATR-5024 | 24 | 5000 | 48 x 48 | 60 x 60 | 48 x 48 | 12 | 36 | 360° | 1375 |
| ATR-6024 | 24 | 6000 | 48 x 48 | 60 x 60 | 48 x 48 | 13 | 37 | 360° | 1450 |
*CLICK ON THE MODEL NUMBER IN THE CHART TO VIEW PRODUCT SHEET