5 Year/500,000 Cycle Warranty
The high performance bin dumper shares the same patent pending configuration of the Ultra high performance dumper. By removing the shuffle feature, costs are reduced by simplifying the power unit and reducing the high fatigue stresses, so structural members can be lighter, but still very robust.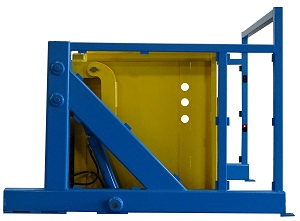 SPECIAL FEATURES
180 degree rotation using our patent pending "dumper linkage system" which quickly and compactly inverts the bin assembly to dump the most stubborn loads.
The unique dumper design keeps the center of gravity of the bin assembly and payload entirely within the dumper base-frame during the entire rotation cycle even in the improbable event that the payload remains stuck in the bin assembly in the full 180 degree rotated position.
Constant pressure push button control with ramp up and ramp down speeds anywhere in the operating range. Reversing the dump cycle and resuming the dump cycle can be done manually at any point.
Robust "construction equipment grade" cylinders built to withstand fast dumping and shuffling speeds.
5 year/500,000 cycle warranty.
Note: Warranty life is a fraction of expected life when the equipment is properly installed and maintained.
---
DIMENSION KEY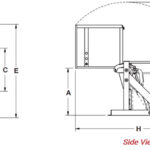 SPECIFICATION TABLE FOR DUMPERS
Call the number below with any questions you have about our hydraulic container dumping machines.