Many applications call for combining lifting and tilting functions. Bin-tilters are an example of doing this to feed operators bin contents at a convenient fixed height. In other applications, the heights must vary or vary independently from the degree of tilt. In these instances, specific lifts can be equipped with tilters or upenders mounted on top of them.
The opposing page contains information on combination tilters that have been designed for the most common applications. The lifts and tilters in these models have been modified so that their power units can remain internally mounted to the mechanisms. The connecting surfaces between the tilters and the lifts have been optimized to reduce weight and cost. Our industrial lift and tilt tables will cover 90% of the applications that you will encounter.

We can and have done many other combinations for more unusual or unique applications. In these instances the engineering cost of optimizing the designs exceeds the savings that would result from the process so we simply choose a tilter or upender that is suitable for the application and then pick a lift that will properly support it. The power units in these cases are usually a single remote unit, but the controls will allow independent control of the tilt and lift functions. In some instances the power units can be internal, but this usually requires two power units and two power sources or plugs. Inquire about our tilting scissor lifts today.

Rules For Stacking Tilters/Upenders Lifts:
1.  The lift must have enough capacity to lift both the weight of the item on the tilter and the weight of the tilter/upender itself.
2.  The minimum lift platform must be large enough to support the entire tilter baseframe. (If a tilter baseframe size is not shown, use the minimum platform size of the tilter.)
3.  Electric lifts should be paired with electric tilters and air lifts should be paired with air tilters. Do not mix power sources.
4.  In upender applications, add the length of each platform plus 5-1/2″ and choose a lift that can be equipped with a platform of that combined length, as well as the width of the upender platforms.
5.  When upenders are being stacked on lifts, it is important to be sure that the center of gravity of the live load in the full range of tilt positions, is always within the center 75% of the supporting leg set (minimum platform length).
6.  Lowered heights are simply the sum of the lowered heights of the two units.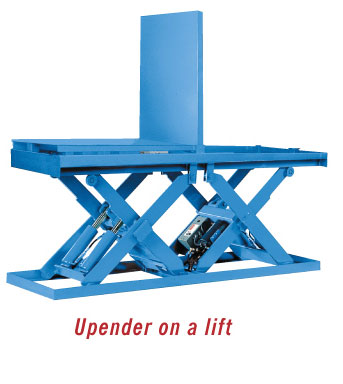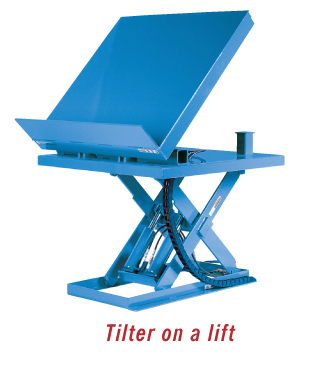 Please do not hesitate to contact your local distributor or our sales department with your special requirements. They have the full resources of our company behind them and it is our purpose and privilege to service your material handling needs. Ask about our industrial lift and tilt tables.