WHEN DURABILITY MATTERS
1 Year Parts and Labor\10 year, 250,000 Cycle Structural Warranty
These lift and tilt platforms are optimized combination designs that are used where the lifting and tilting functions must be done independently. Inquire about our tilting lift tables for sale today.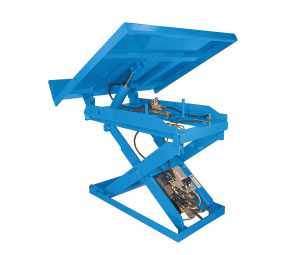 SPECIAL FEATURES
These tilting scissor lift tables are equipped with the patented "Platform Centering Devices", which doubles or triples lift life.
These units are equipped with single internally mounted power units.
All of the controllers are Underwriter Laboratory listed assemblies.
All hydraulic cylinders are machine grade with clear plastic return lines.
All pressure hoses are double wire braid with JIC fittings.
Lift and tilt tables are fully primed and finished with baked enamel.
We also offer Air Operated Lift and Tilt Tables.
SPECIFICATION TABLE FOR LIFT AND TILT UNITS
Lift
Tilt
Tilt
Platform
Lowered
Raised
Lift
Tilt
Ship
Model
Travel
Angle
Capacity
Minimum
Maximum
Height
Height
Up Speed
Up Speed
Weight
PT-20243-I
24
30º
2000
 30 X 36
48 X 60
14-1/4
38-1/4
10
 6
 800
PT-35243-I
24
30º
3500
 30 X 36
48 X 60
14-1/4
38-1/4
15
 12
 890
PT-55243-I
24
30º
5500
 30 X 36
48 X 60
14-1/4
38-1/4
22
 12
 925
PT-20363-I
36
30º
2000
 30 X 48
48 X 60
14-1/4
50-1/4
11
 5
 910
PT-35363-I
36
30º
3500
 30 X 48
48 X 60
14-1/4
50-1/4
17
 9
1000
PT-55363-I
36
30º
5500
 30 X 48
48 X 60
14-1/4
50-1/4
23
 9
1045
PT-20483-I
48
30º
2000
 30 X 60
48 X 60
14-3/4
62-3/4
18
 5
1090
PT-35483-I
48
30º
3500
 30 X 60
48 X 60
14-3/4
62-3/4
27
 9
1195
PT-55483-I
48
30º
5500
 30 X 60
48 X 60
14-3/4
62-3/4
37
 9
1250
PT-20244-I
24
45º
2000
 30 X 36
48 X 60
14-1/4
38-1/4
10
 10
 810
PT-35244-I
24
45º
3500
 30 X 36
48 X 60
14-1/4
38-1/4
15
 20
 900
PT-55244-I
24
45º
5500
 30 X 36
48 X 60
14-1/4
38-1/4
22
 20
 935
PT-20364-I
36
45º
2000
 30 X 48
48 X 60
14-1/4
50-1/4
11
 7
 920
PT-35364-I
36
45º
3500
 30 X 48
48 X 60
14-1/4
50-1/4
17
 15
 1010
PT-55364-I
36
45º
5500
 30 X 48
48 X 60
14-1/4
50-1/4
23
 15
 1055
PT-20484-I
48
45º
2000
 30 X 60
48 X 60
14-3/4
62-3/4
18
 7
 1100
PT-35484-I
48
45º
3500
 30 X 60
48 X 60
14-3/4
62-3/4
27
 15
 1205
PT-55484-I
48
45º
5500
 30 X 60
48 X 60
14-3/4
62-3/4
37
 15
 1260
PT-20246-I
24
60º
2000
 30 X 36
48 X 60
14-1/4
38-1/4
10
 13
 815
PT-35246-I
24
60º
3500
 30 X 36
48 X 60
14-1/4
38-1/4
15
 27
 905
PT-55246-I
24
60º
5500
 30 X 36
48 X 60
14-1/4
38-1/4
22
 27
 940
PT-20366-I
36
60º
2000
 30 X 48
48 X 60
14-1/4
50-1/4
11
 10
 925
PT-35366-I
36
60º
3500
 30 X 48
48 X 60
14-1/4
50-1/4
17
 20
 1015
PT-50366-I
36
60º
5000
 30 X 48
48 X 60
14-1/4
50-1/4
23
 20
 1060
PT-20486-I
48
60º
2000
 30 X 36
48 X 60
14-3/4
62-3/4
18
 10
 1105
PT-35486-I
48
60º
3500
 30 X 36
48 X 60
14-3/4
62-3/4
 27
 20
 1210
PT-50486-I
48
60º
5000
 30 X 36
48 X 60
14-3/4
62-3/4
 37
 20
 1265
* CLICK ON THE MODEL NUMBER IN THE CHART TO VIEW PRODUCT SHEET