Landing-Lock™, Gates & Enclosures, Controls,
Receptacle Charts and Bi-Parting Gates
LANDING-LOCK™:
Advance lifts has recently developed a LandingLock™ for our BFL mezzanine access scissor lift systems. We have a patent pending on the design and the name is trade mark protected. The design consists of two (2) locking pins mounted on the lift platform that are automatically engaged into two (2) supports that are integrated into the lift enclosure system to firmly hold the platform at the upper elevation. Sway and deflection are eliminated during loading/unloading operations. This device can be used to secure a platform at any grade level such as mezzanine floors, building floors or machine interfaces where loads are transferred from one surface to another surface.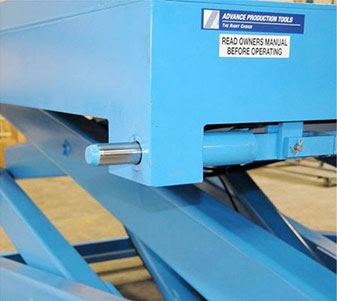 GATES & ENCLOSURES:
We are now manufacturing our own gates and enclosures. By moving the production of the gates and enclosures in house we have shortened our drawing and delivery times. Besides the quicker delivery times, this has allowed us to incorporate some design changes that will improve the fit and finish and make installation easier. The most noticeable change will be the incorporation of leveling feet. Besides making it very easy to deal with un-level floors, they also make it easier to adjust for small surprises like mezzanine lag bolts.
STANDARD
BI-PARTING SWING GATE, MEZZANINE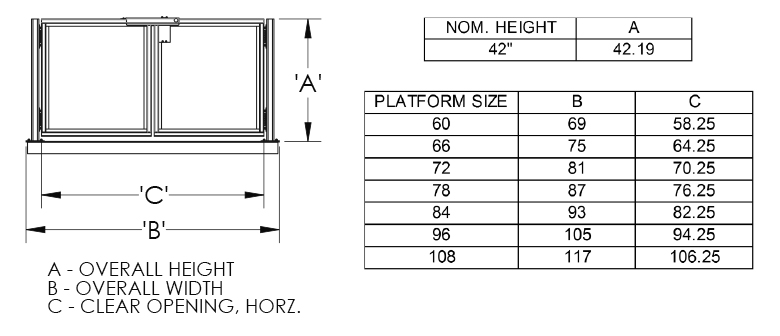 STANDARD
BI-PARTING SWING GATE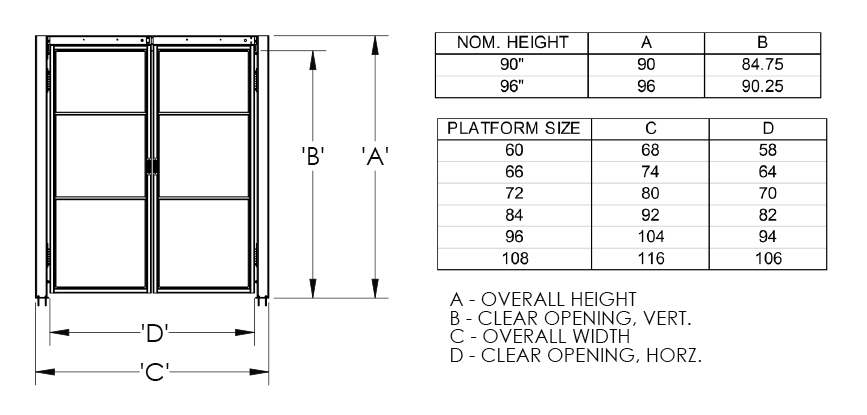 OPTIONAL
HORIZONTAL SLIDING GATE, MEZZANINE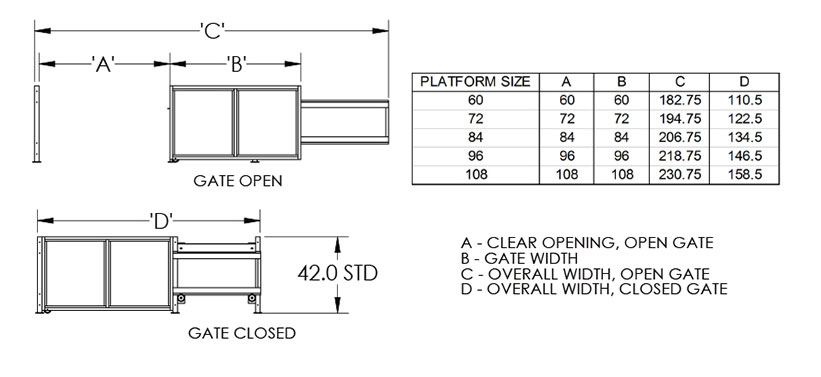 OPTIONAL
SINGLE PANEL VERTICAL SLIDING GATE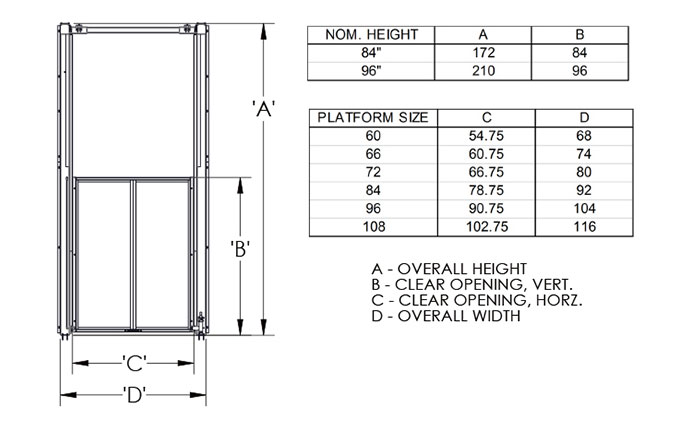 BI-PARTING GATES:
Our bi-parting gates are available in standard widths of 6', 7,' or 8'. See chart for exact dimensions. The gates are held in the upright position by gas air springs. Electrical interlocks are optional.
Bi parting gate for 6 ft side with 60" clear width
Bi parting gate for 7 ft side with 72" clear width
Bi parting gate for 8 ft side with 84" clear width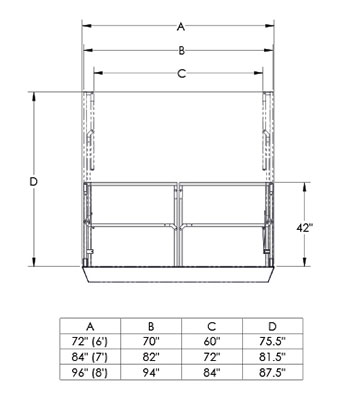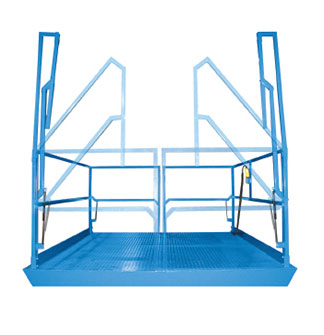 CONTROLS: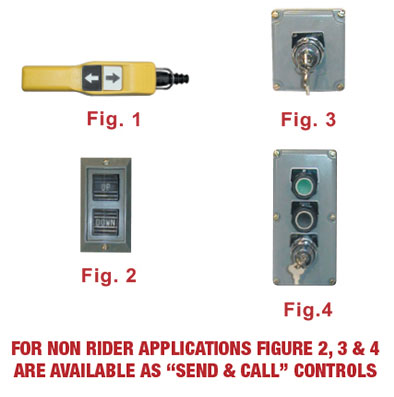 FIG. 1 – NEMA 4X pushbutton (Standard)
FIG. 2 – NEMA 1 wall mount pushbutton
FIG. 3 – up DOWN key operated
FIG. 4 – push Button With key Lockout
FACTORY STANDARD RECEPTACLE CHARTS: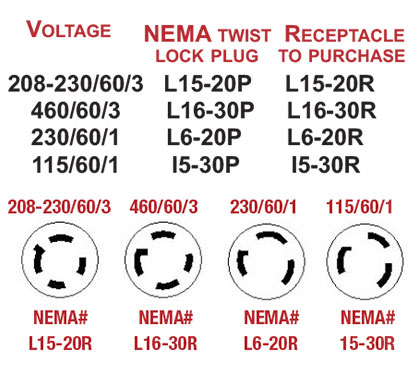 Standard voltage for all power units of 1hp or larger is 230/60/3. These units will operate on 208, 220, 230, 240 voltages and if the magnetic overloads are changed, they can be rewired to operate on 440, 460, and 480 voltages also.