Casters, controls, power units, special decks & more
WHEEL AND DOLLY SETS:These are only used to move empty units. Standard pricing is for units with minimum size platforms and end mounted wheels as shown in (Fig 1.)
Standard ground clearance is 1/2″. Side mounted wheels (Fig. 2) may be special ordered. Special kits for other than minimum size platforms may also be available if you consult the factory.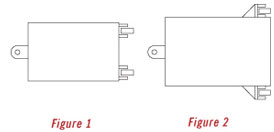 CASTER SETS:These are designed so that loaded lifts can be moved with no damage to the lifts or casters. It should be remembered however, that a 2000# load on a lift presents as much inertia to overcome as a car does and as the capacity of the lifts go up, it becomes increasingly difficult to move a fully loaded unit. Lift up casters are equipped with two fixed and two swivel casters to aid steering. Ground clearance varies by unit and caster configuration, but is always at least 1″. The standard configuration is end mount (Fig. 3), but side mount (Fig. 4) and bottom mount (Fig. 5) are also available.
FLANGED OR "V" GROOVE WHEEL SETS:These guided wheel sets can be mounted in any of the three configurations shown for the caster sets. The flanged wheels typically ride 1/2″ by 1-1/2″ flat tracks and the 'V" groove wheels typically ride 1-1/2″ by 1-1/2″ inverted angle iron tracks. Higher capacities require larger tracks.

POWERED DRIVE OPTIONS:Powered drive options are available in either AC or DC models. The advantage to the AC units is that higher duty cycles are available and there is no need to recharge the units. The advantage to the DC units is freedom of movement with no power cords on the floor and no need for cable reels. These units can be designed for either "V" groove wheels (standard) or flanged wheels. The typical P series lift contains the powered drive power unit in a box 42-1/4″ wide by 23-3/8″ long on the end of the lift. The height of this box is typically 14-3/4″ tall for AC units and DC units would have the batteries on top of the box providing a higher profile.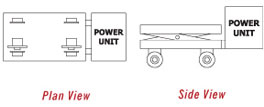 GUARD RAILS AND SAFETY CHAINS:Whenever personnel will be on elevated lifts, guard rails and safety chains should be added as safety restraints.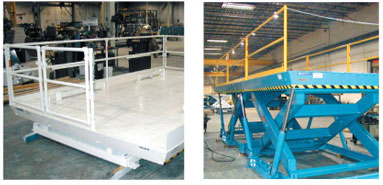 FORK POCKETS:The fork pocket option consists of a reinforced baseframe with cross tube fork pockets. The lift itself should be equipped with as close as possible to a minimum width platform. Fork truck capacity ratings are typically at 24″ out from the mast and wide platforms can mean that the center of gravity of the loaded unit is positioned beyond the rated load center of the fork truck.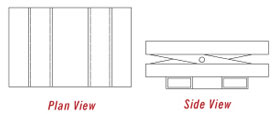 BEVEL TOE GUARDS:OSHA requires 8″ bevel toe guards on all units that are recessed into the floor. This requires a minimum lowered height of 9″ and the platforms must be at least 8″ longer and 8″ wider than standard minimum.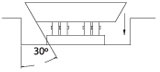 ELECTRIC TOE GUARDS:This option acts as foot or limb protection by breaking the "down" circuit of the lift control system whenever the guard is deflected. The unit "up" control remains intact. This option can be applied to either a straight sided or bevel toe guard unit. This option does not work well with accordion skirts.

ACCORDION (BELLOW) SKIRTS: This option consists of pleated black and yellow polyester skirting in a bellows configuration. It does prevent small debris from getting into the scissors mechanism, but it is not a substitute for bevel toe guards or electric toe guards. On lifts with oversize platforms the skirts are typically fitted around the leg mechanism, not the edge of the platform.

SLIP REDUCING DECKS:Plate manufacturers produce raised pattern plates for better traction which is standard on all dock lifts and an option on all other lifts. We can also embed silica sand in our enamel paint finish on smooth plates, which provides better traction than the embossed plates, but does not hold up to wear as well.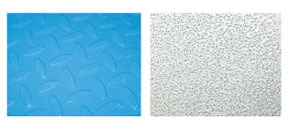 "V" CRADLE DECKS:Our standard slope is 1″ per foot, which is approximately 5 degrees.

CONVEYORS AND BALL TRANSFERS:These items are usually supplied by our customers and we simply attach them. However, we can purchase these items as well.

SPECIAL FINISHES:
Stainless steel, galvanized, and spray on zinc metalized finishes are available for special rust inhibiting applications. Consult factory for pricing.
Polyurethane paint is somewhat self-healing when scratched and is more durable than industrial enamel. Some food preparation applications require polyurethane paint. We are properly equipped and well practiced at applying polyurethane finishes. Depending on the customer specifications the paint itself can cost 4 to 10 times as much as industrial enamels. Consult factory for pricing.
Custom matched enamel paint colors are all commonly produced special finishes.
Note: Our standard finish is a baked industrial enamel over fully primed surfaces.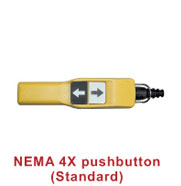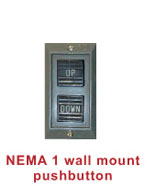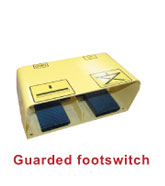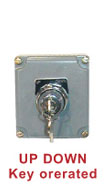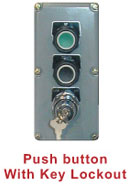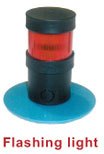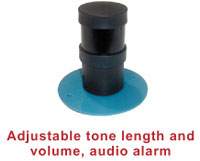 Note: Standard voltage for all power units of 1HP or larger is 230/60/3. These units will operate on 208, 220, 230, 240 voltages and if the magnetic overloads are changed, they can be rewired to operate on 440, 460, and 480 voltages also.
FACTORY STANDARD RECEPTACLE CHARTS: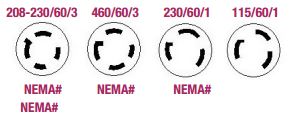 ELECTRIC POWER UNITS:
FIG. 1 Standard internally mounted power unit for a "P" series lift with all valves built into the hydraulic pump.
FIG. 2 Deluxe power unit with a separate valve manifold which allows up to eight times more heat dissipation than pump mounted valves for greater endurance and longer component life.
FIG. 3 External single phase power unit that will allow three phase speeds on "P" series lifts.
FIG. 4 Continuous running external power unit for frequent jogging operations.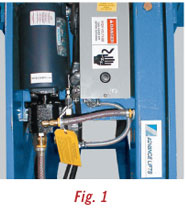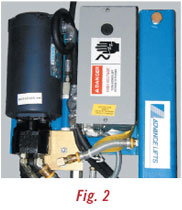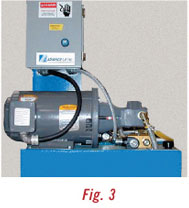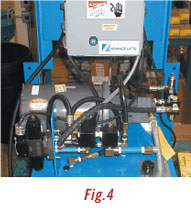 WHEN TO USE CONTINUOUS RUNNING POWER UNITS:If an application requires a two second jog every 10 seconds, or 200 motor starts per hour, or a full capacity full travel lift in less than 4 minute intervals, then a continuous running power unit is needed to prevent overheating the motor. If you provide the exact duty cycle requirements for a particular lift model that you are considering, we can tell you if a standard power unit will be sufficient.
HIGH CYCLE POWER UNITS:True high cycle power units are continuous running and require oil coolers, filters and other modifications which are unique to each application. See page 19 for typical high cycle power unit configurations.
HYDRAULIC FLUID OPTIONS:For biodegradable and/or fire resistant applications we suggest Dasco 355-2 or equivalent. For food grade operations we suggest Nevastane AW32 or equivalent.
AIR OPERATED POWER UNITS:For applications that require positive hydraulic position holding, but avoid the use of electricity, we can provide air operated power units. These units utilize air motors in place of electric motors and air operated solenoids for lowering. Both hand operated and foot operated controls are available.
Shop scissor lift accessories online today!