WHEN DURABILITY MATTERS
1 Year Parts and Labor\10 year, 250,000 Cycle Structural Warranty
These units are optimized lift and turn units used where the lifting and turning functions must be done independently. Inquire about this scissor lift and turn platform today.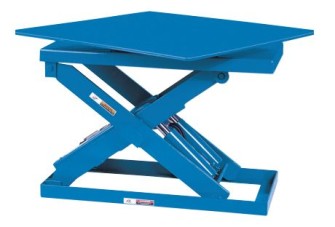 SPECIAL FEATURES
These hydraulic lift tables are equipped with the patented "Platform Centering Devices", which doubles or triples lift life

These units are equipped with single internally mounted power units.
All of the controllers are Underwriter Laboratory listed assemblies.
All hydraulic cylinders are machine grade with clear plastic return lines.
All pressure hoses are double wire braid with JIC fittings.
These hydraulic lift and turn tables are fully primed and finished with baked enamel.
SPECIFICATION TABLE FOR LIFT AND MANUAL TURN UNITS
|  Model | Travel | Capacity | Platform Minimum | Platform Maximum | Baseframe | Lowered Height | Raised Height | Speed Sec. | H.P. | Ship Weight |
| --- | --- | --- | --- | --- | --- | --- | --- | --- | --- | --- |
| PM-2024 | 24 | 2000 | 24 x 36 | 48 x 60 | 24 x 36 | 9 -1/2 | 33-1/2 | 10 | 1.5 | 780 |
| PM-3524 | 24 | 3500 | 24 x 36 | 48 x 60 | 24 x 36 | 9 -1/2 | 33-1/2 | 15 | 1.5 | 820 |
| PM-5524 | 24 | 5500 | 24 x 36 | 48 x 60 | 24 x 36 | 9 -1/2 | 33-1/2 | 22 | 1.5 | 855 |
| PM-2036 | 36 | 2000 | 24 x 48 | 48 x 64 | 24 x 48 | 9 -1/2 | 45-1/2 | 11 | 2 | 935 |
| PM-3536 | 36 | 3500 | 24 x 48 | 48 x 64 | 24 x 48 | 9 -1/2 | 45-1/2 | 17 | 2 | 975 |
| PM-5536 | 36 | 5500 | 24 x 48 | 48 x 64 | 24 x 48 | 9-1/2 | 45-1/2 | 23 | 2 | 1020 |
| PM-2048 |  48 | 2000 | 24 x 64 | 48 x 64 | 24 x 64 | 10 | 58 | 18 | 2 | 1175 |
| PM-3548 | 48 | 3500 | 24 x 64 | 48 x 64 | 24 x 64 | 10 | 58 | 27 | 2 | 1230 |
| PM-5548 | 48 | 5500 | 24 x 64 | 48 x 64 | 24 x 64 | 10 | 58 | 37 | 2 | 1285 |
*CLICK ON THE MODEL NUMBER IN THE CHART TO VIEW PRODUCT SHEET
SPECIFICATION TABLE FOR LIFT AND POWERED TURN UNITS
|  Model | Travel | Capacity | Platform Minimum | Platform Maximum | Baseframe | Lowered Height | Raised Height | Speed Sec. | H.P. | Ship Weight |
| --- | --- | --- | --- | --- | --- | --- | --- | --- | --- | --- |
| PP-1836 | 36 | 1800 | 24 x 48 | 48 x 64 | 24 x 48 | 16 | 52 | 11 | 2 | 1080 |
| PP-3336 | 36 | 3300 | 24 x 48 | 48 x 64 | 24 x 48 | 16 | 52 | 17 | 2 | 1120 |
| PP-5336 | 36 | 5300 | 24 x 48 | 48 x 64 | 24 x 48 | 16 | 52 | 23 | 2 | 1165 |
| PP-1848 | 48 | 1800 | 24 x 64 | 48 x 64 | 24 x 64 | 16 -1/2 | 64-1/2 | 18 | 2 | 1355 |
| PP-3348 | 48 | 3300 | 24 x 64 | 48 x 64 | 24 x 64 | 16 -1/2 | 64-1/2 | 27 | 2 | 1410 |
| PP-5348 | 48 | 5300 | 24 x 64 | 48 x 64 | 24 x 64 | 16 -1/2 | 64-1/2 | 37 | 2 | 1465 |
| HDEWP-0636 | 36 | 6000 | 42 x 60 | 60 x 60 | 42 x 60 | 21 -3/4 | 57-3/4 | 18 | 5 | 2940 |
| HDEWP-0836 | 36 | 8000 | 42 x 60 | 60 x 60 | 42 x 60 | 21 -3/4 | 57-3/4 | 26 | 5 | 3085 |
| HDEWP-1036 | 36 | 10000 | 42 x 60 | 60 x 60 | 42 x 60 | 21 -3/4 | 57-3/4 | 27 | 5 | 3255 |
*CLICK ON THE MODEL NUMBER IN THE CHART TO VIEW PRODUCT SHEET