2 Years Parts & Labor/10 Years Structural Warranty
The JSL series units are a sampling of some of the very large special lifts that we have produced. If you have a very large lift requirement that does not match up with one of our Jumbo units, please call us and we will be pleased to quote on your exact requirements. Inquire about our Jumbo lifts today.



SPECIAL FEATURES
All of the controllers are Underwriter Laboratory listed assemblies.
These extra large platforms are fully primed and finished with a baked enamel finish.

The cylinders are machine grade.
All pressure hoses are double wire braid with JIC fittings.
The reservoirs are mild steel.
These units conform to all applicable ANSI codes.
---
FEATURE DETAILS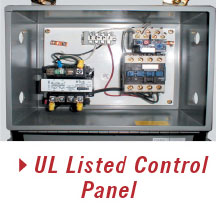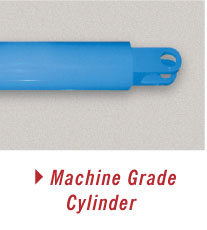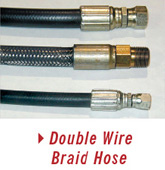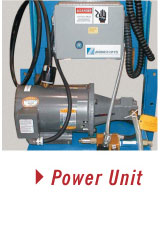 ---
SPECIFICATION TABLE FOR SINGLE SCISSORS JUMBO LIFTS
Model
Travel
Capacity
Std Min Platform
Maximum End
Loading Side
Baseframe Size
Lowered Height
Raised Height
Speed Sec.
Motor H.P.
Ship Wt.
SINGLE SCISSORS JUMBO LIFTS
JSL-10926
72
40000
9′ X 12′
19000
5000
9′ X 12′
30
102
120
10
1400
JSL-10619
58
20000
9′ X 15′
16000
14000
9′ X 15′
24
82
72
7-1/2
11475
JSL-12007
58
30000
9′ X 15′
24000
21000
9′ X 15′
30
88
36
25
14900
JSL-17959
58
12000
10′ X 14′
9600
8400
10′ X 14′
16-1/2
74-1/2
36
7-1/2
10100
JSL-18649
58
30000
10′ X 15′
24000
21000
10′ X 15′
30
88
36
25
16500
JSL-10354
60
15000
12′ X 14′
12000
5000
12′ X 14′
18
78
43
7-1/2
12600
JSL-16050
58
25000
12′ X 20′
20000
17500
12′ X 20′
30
88
72
10
18000
DOUBLE SCISSORS JUMBO LIFTS
JDL-14010
72
6000
8′-6"X 38′
3000
3000
8′-6"X 38′
24
96
60
7-1/2
13650
JDL-14257
72
12000
8′-6"X 38′
6000
6000
8′-6"X 38′
24
96
72
7-1/2
16500
JDL-08179
87
20000
8′-6"X 50′
7500
7500
8′-6"X 50′
33
120
109
10
23500
JDL-12646
99
20000
8′-6"X 50′
8000
8000
8′-6"X 50′
33
132
124
10
25000
JDL-13727
60
60000
9′ X 35′
48000
30000
9′ X 35′
45
105
37
40
40000
JDL-19164
60
60000
9′ X 35′
45000
25000
9′ X 35′
45
105
37
40
46500
JDL-17616
84
6000
12′ X 25′
2500
2500
12′ X 25′
15
99
60
7-1/2
12500
*CLICK ON THE MODEL NUMBER IN THE CHART TO VIEW PRODUCT SHEET
ONLY ADVANCE LIFTS GIVES YOU WARRANTY CHOICES:
P SERIES LIFTS – 10 YEAR/250,000 CYCLES
(The longest standard warranty in the industry)
HC SERIES LIFTS – 10 YEAR/1,000,000 CYCLES
UHC SERIES LIFTS – 10 YEAR/3,000,000 CYCLES