10 Year/3,000,000 Cycle Warranty
When heavy loads need to be moved quickly, precisely and with consistent repeatability and/or a lift is expected to operate in an application which will exceed millions of cycles, an ultra high cycle lift should be considered. Our Ultra High Cycle (UHC) lifts offer not only accuracy and durability, but lower maintenance costs, less down time, reduced or eliminated lift replacement costs and flexible installation requirements which all add up to greater value in demanding applications. Inquire about these hydraulic lift tables for sale today.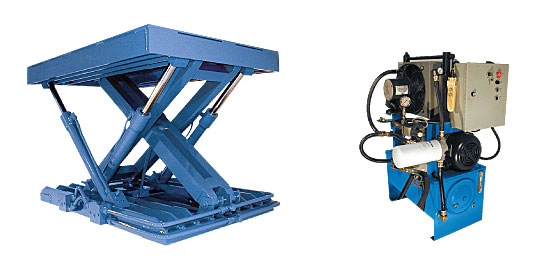 When determining the need for an ultra high cycle lift in such an application, three systems should be
considered: lifting structure, position control and hydraulic power unit.
SPECIAL FEATURES
Our lifting mechanism is no simple lift. The unit looks and acts like a machine tool. Precision tolerances are used to ensure the necessary tight fits that produce smooth operation and accurate positioning without the deflections associated with standard lifts. Sliders replace wheels for greater contact area reducing stresses and wear. Cylinders are double acting and connected directly to the platform corners, which provides better load support and less deflection. Special grade alloy steel and custom seals are used in the cylinders to help meet the 3,000,000 cycle life warranty of our UHC lift structure. As with any lift, the load weight, shape and CG location are important in determining the overall dimensions of the ultra high cycle lift. The factory must be contacted for non-standard travel requirements.
With the rigid structure of our UHC lift, very accurate positioning can be obtained. Not all applications require extreme accuracy, therefore we offer three levels of position control. Standard is a system of proximity sensors that act like limit switches to control the minimum lowered position and the maximum raised position. This allows operation between these two points with an accuracy and repeatability of approximately +/- 1/4″. If intermediate positions and/or greater accuracy is required, then for a moderate price increment a position control system that measures platform position is available for use with our standard power unit. This package offers platform indexing up or down, preprogrammed application specific intermediate positioning, accuracy and repeatability to +/- .030″, or any combination of these features. Optional user and network interfaces offer even greater flexibility and system integration. Finally, if greater speeds and/or accuracy are required, then a custom position control system can be provided, but in this case price will need to be determined based on the application and it can become very high, very quickly.
The standard hydraulic power unit is capable of providing speeds of up to 40 feet per minute for our UHC lifting tables and is designed to run continuously. At this speed, a lift will provide a full, up and down through 32″ of travel, with a cycle time of 8 seconds. With a 10 HP motor, 20 gallon reservoir, better than 10 micron absolute filtration and an oil cooler, these power units are built to last with a minimum amount of maintenance. Besides the usual hydraulic valving you would find in a high cycle power unit, there is also a PLC controlled proportional valve which is used in part to eliminate shock at the start and stop of a cycle. The standard controls offer two modes of operation, manual and automatic. Manual mode allows the platform to be raised and lowered at a slower speed for maintenance while the automatic mode operates at the lift and
lowering speeds which are preprogrammed into the PLC based on the customer's application requirements.
Each of the three systems will be quoted separately providing a modular approach to custom applications. The following is a specification table on our standard Ultra High Cycle Hydraulic Lifting Tables:

---
SPECIFICATION TABLE:
*CLICK ON THE MODEL NUMBER IN THE CHART TO VIEW PRODUCT SHEET
The technology we developed for our UHC lifts is very robust and transferable. In applications with requirements of up to 1,000,000 cycles a less expensive lift can be used. By tailoring the UHC technology to those moderately high cycle applications, a suitably robust lift is feasible which will accommodate a wide range of travels and loads at a significantly lower price. As mentioned elsewhere in this application guide, warranty life and actual useful life of automatic and manual lift tables are quite different. Even though the UHC lifts are warranteed for 3,000,000, useful life of the lift could well exceed that number depending on load, environment, speed of operation and maintenance quality. The warranty life is a good term to refer to with respect to level of lift robustness. With warranty life as the basis, the moderately high cycle lift is 4 times as robust as a standard lift and the ultra high cycle lift is 12 times as robust.
How's that for value? Ask about our UHC lift tables for sale today!
Please contact the factory with your requirements whether it is a standard manual scissor lift table, an Ultra High Cycle Lift or anything in between.
ONLY ADVANCE LIFTS GIVES YOU WARRANTY CHOICES:
P SERIES LIFTS – 10 YEAR/250,000 CYCLES
(The longest standard warranty in the industry)
HC SERIES LIFTS – 10 YEAR/1,000,000 CYCLES
UHC SERIES LIFTS – 10 YEAR/3,000,000 CYCLES