10 Year/250,000 Cycle Warranty
The air spring actuated lift tables offer several advantages and disadvantages when compared to hydraulic cylinder actuated lifts. The chief advantages of air spring actuated lift tables are lower cost, there are no hydraulic systems to leak, and no electrical requirements for operation. They are simply hooked up to the shop air system. The chief disadvantage to these units is the springiness of the units at any intermediate position between full up and full down. If the intermediate position springiness is a problem for an application, there are a couple of ways to solve this problem. The most popular option is to select a hydraulic lift with an air motor. This allows for the lift to operate on air but with the rock solid positioning of hydraulic cylinders. Inquire about these air operated lift tables today.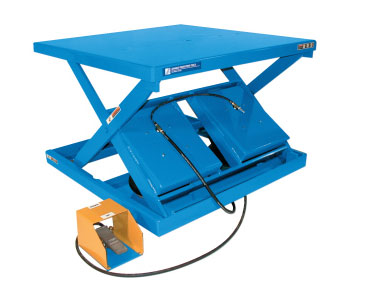 SPECIAL FEATURES
These units are equipped with the patented "Platform Centering Devices", which doubles or triples lift life.
These units are fully primed and finished with a baked enamel finish.
These units conform to all applicable ANSI codes.
Air springs are lifetime warranty.
---
FEATURE DETAILS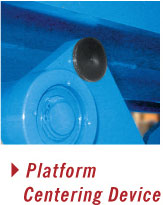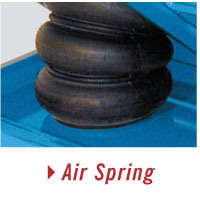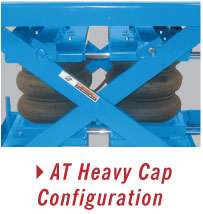 FEATURE DETAILS CONT.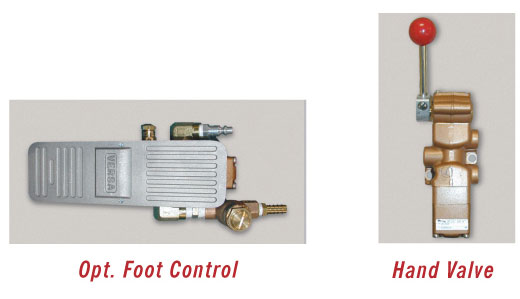 SPECIFICATION TABLE FOR SINGLE UNITS
| Model | Travel | Capacity | Std Min Platform | Opt. Max. Platform | Maximum End | Loading Side | Baseframe Size | Lowered Height | Raised Height | Ship Wt. |
| --- | --- | --- | --- | --- | --- | --- | --- | --- | --- | --- |
| AT-1024 | 24 | 1000 | 24 X 48 | 48 X 72 | 1000 | 1000 | 24 X 48 | 7-3/4 | 31-3/4 | 425 |
| AT-2024 | 24 | 2000 | 24 X 48 | 48 X 72 | 1000 | 1000 | 24 X 48 | 7-3/4 | 31-3/4 | 430 |
| ATEW-1024 | 24 | 1000 | 36 X 48 | 60 X 72 | 1000 | 1000 | 36 X 48 | 7-3/4 | 31-3/4 | 575 |
| ATEW-2024 | 24 | 2000 | 36 X 48 | 60 X 72 | 1000 | 1000 | 36 X 48 | 7-3/4 | 31-3/4 | 580 |
| ATEW-3024 | 24 | 3000 | 36 X 48 | 60 X 72 | 1000 | 1000 | 36 X 48 | 9 | 33 | 750 |
| ATEW-4024 | 24 | 4000 | 36 X 48 | 60 X 72 | 1000 | 1000 | 36 X 48 | 9 | 33 | 760 |
| ATVW-1024 | 24 | 1000 | 48 X 48 | 72 X 72 | 1000 | 1000 | 48 X 48 | 7-3/4 | 31-3/4 | 670 |
| ATVW-2024 | 24 | 2000 | 48 X 48 | 72 X 72 | 1000 | 1000 | 48 X 48 | 7-3/4 | 31-3/4 | 675 |
| ATVW-3024 | 24 | 3000 | 48 X 48 | 72 X 72 | 2000 | 2000 | 48 X 48 | 7-3/4 | 31-3/4 | 870 |
| ATVW-4024 | 24 | 4000 | 48 X 48 | 72 X 72 | 2000 | 2000 | 48 X 48 | 7-3/4 | 31-3/4 | 880 |
| ATVW-6024 | 24 | 6000 | 48 X 48 | 72 X 72 | 2000 | 2000 | 48 X 48 | 9 | 33 | 1025 |
| ATVW-8024 | 24 | 8000 | 48 X 48 | 72 X 72 | 2000 | 2000 | 48 X 48 | 10 | 34 | 1100 |
*CLICK ON THE MODEL NUMBRE IN THE CHART TO VIEW PRODUCT SHEET
Standard deduction of 2% per inch for platforms longer and/or wider than minimum sizes