2 Year Parts & Labor/10 Year Structural Warranty
These truck levelers have the cylinders mounted completely out of the way beneath the platform. The travel on these units is typically divided with 18″up travel and 18″ down travel, but the pit profile can be changed to provide other travel combinations.



Capacity: 60,000 lbs.
Overall Width: 10 ft. 2 in.
Overall Length: 15 ft. 8.75 in.
Platform Size: 10 x 15 ft.
5 HP Motor
Approx. 3 FPM
36″ Travel
Shipping Weight: 5,800 lbs.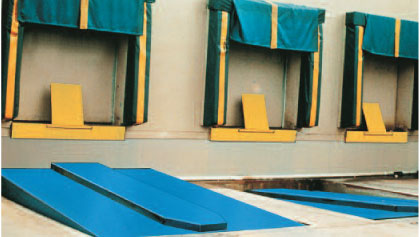 Model# TL-415
SPECIAL FEATURES & BENEFITS
All of the electrical controllers are Underwriters Laboratories approved assemblies.
Hydraulic anti-interflow system to prevent side to side tilting of platform
Each unit is washed with phosphoric acid, fully primed and then finished with baked enamel.
All cylinders are machine grade with clear plastic return lines & internal mechanical stops.
All pressure hoses are double wire braid with JIC fittings.
Reservoirs are mild steel.
All units are equipped with solid steel skirts.
CLICK HERE FOR: Specifications Optional Accessories
FEATURE DETAILS