2 Year Parts & Labor/10 Year Structural Warranty
These are by far the most popular size Disappearing Dock lifts sold. They are sized to handle pallet jacks, four-wheel carts or dolly trucks. They are also used for dock to ground access.



Capacity: 5,000 lbs.
Axle Capacity Ends: 4,000 lbs.
Axle Capacity Sides: 3,300 lbs.
Platform Size: 8 x 10 ft.
Lowered Height: 8 in.
5 HP Motor
Approx. 10 FPM
58″ Travel
Shipping Weight: 2,400 lbs.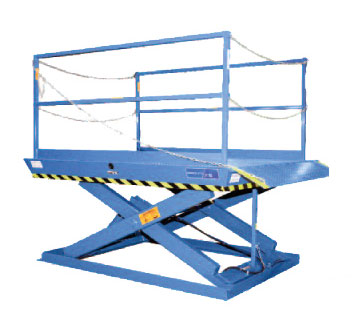 Model# T3-50608
SPECIAL FEATURES
All models are equipped with a hinged bridge with a pull back chain.
All T2 & T3 units are equipped with hot dip galvanized base frames.
All of the electrical controllers are Underwriters Laboratories approved assemblies.
Each unit is washed with phosphoric acid, fully primed and then finished with baked enamel.
All cylinders are machine grade with clear plastic return lines & internal mechanical stops.
These units conform to all applicable ANSI codes.
CLICK HERE FOR:DrawingPDFDXFPit DiagramSpecifications Optional Accessories
FEATURE DETAILS & BENEFITS